Bar Code Madness!
Artist Scott Blake is known for making art from QR codes and bar codes. Each code can be individually scanned and linked to the person who is being portrayed. E.g. the Elvis Presley image is connected to a large number of CDs and music by the singer.
Notes by Blake (published at the Barcode Art website):
I have made more than 30 large-scale digital portraits of cultural icons using actual barcodes connected to some aspect of their lives. My Barcode Elvis portrait is made with barcodes from his music CDs. Barcode Bruce Lee and Barcode Marilyn Monroe are comprised of barcodes from their movie DVDs. Barcode Oprah is made with the ISBN barcodes from her book club. Interact with my art. Move beyond form to function. Scan the barcodes with your smartphone.
Top: Portrait of Amy Goodman made with 2,304 QR Codes that link to nine years of Democracy Now videos. Below: Artwork made from bar codes.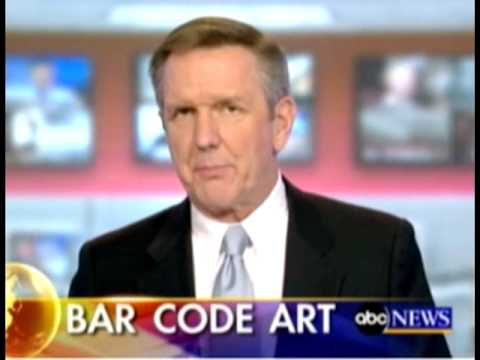 Photo and artwork © Scott Blake

Link via CMYBacon
Adriana is founding editor and award-winning designer of Scene 360 magazine. Her creative trademark is her multi-disciplined exploration of art, cinema, music and literature, which she incorporates into online projects.For over a decade, she has worked as a graphic, web and fashion designer for local and international clients....