Life Inside a Glass Dome
Artist Dominic Wilcox has launched a collection of adapted watches with miniature figures inside of them. Each art piece tells a different story from the "Seated Man" to the "Adventures of a Young Vegetarian."
Notes by Wilcox (from his blog):
I've put tiny figures onto watch hands in order to create mini animated scenes. I had the idea last year during my Speed creating project, but decided it was too good to rush. 8 month later I showed a prototype to Dezeen and they commissioned me to make a collection. The watches use customised model figures and I also made objects, like a miniature looted LCD tv. The glass domes were specially made to fit by Wearside Glass Sculptures in my home town of Sunderland at the National Glass Centre.
"Watch Keeper."
"Seated Man."
"Unrequited Handshake."
"Adventures of a Young Vegetarian; a small girl attempts to stop a butcher [from] chopping up a pig…"
Top: The full collection entitled "Watch Sculptures."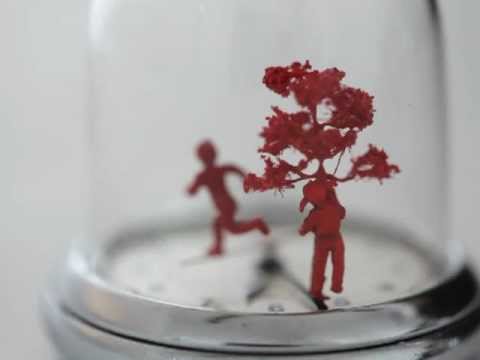 Photos © Dominic Wilcox

Link via Houhouhaha
Adriana is founding editor-in-chief and award-winning designer of Scene 360's Illusion. Her creative trademark is her multi-disciplined exploration of art, cinema, music and literature, which she incorporates into online projects. For over a decade, she has worked as a graphic, web and fashion designer for local and international clients.... Follow the author @scene360, and see more articles here.