iDJ Mixing Station for iPad and iPod
The iPad DJ setup appears to be concept design by Psychic Factory. It is likely in time that Numark launches something along these lines. Within post, you can check out Numark's iDJ 2 Mixing Station for iPods & USB Hard Drives (yes, this one already exists on the market).
Notes about "iDJ 2 Mixing Station for iPods & USB Hard Drives" (from Mix Foundation):
The Numark iDJ2 is the only iPod mixing console that provides full control of your music with real–time scratching (via two jog wheels), a stunning color screen and Numark's exclusive crate management. Keylock insures that DJs can easily change tempo without affecting pitch. The iDJ2 features a fresh and innovative new iPod docking system that allows users to play and mix two songs simultaneously from a single iPod without the need of a computer. Users can also hook up multiple mass storage devices including additional iPods, thumb drives, and external USB hard drives through rear panel USB ports. In addition to USB connectivity, the iDJ2 comes complete with line inputs for audio sources including a microphone, CD players and turntables.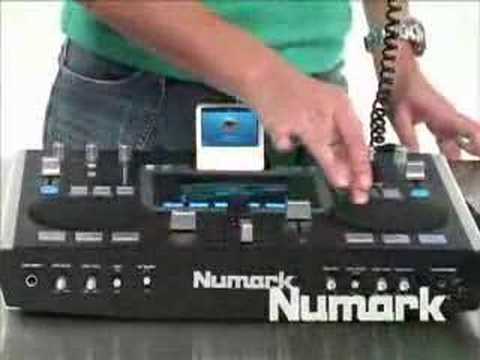 Link via Yanko Design